There are thousands of options to choose from, so how do you narrow down the field and find the best AR scope? The first place to start is with our list of the 10 best AR scopes that we've reviewed from the seemingly infinite array.
In our 2023 review, we compare 10 top models side by side and let you know if they live up to the hype. We don't hold anything back, and we'll share what we love about each of these AR scopes, and we'll even let you in on any of their potential shortcomings.
And finally, we'll keep this list up to date, so bookmark this page and keep coming back to find out if the scope you've been eyeing made it onto our list.
Best AR-15 Scopes for the Money
Best Choice
Good Choice
Don't Miss
Also Consider
UTG 3-9X32 1" BugBuster Scope, AO, RGB Mil-dot, QD Rings , Black
Bushnell Optics, Drop Zone Reticle Riflescope with Target Turrets, Matte Black, 1-4x/24mm
Vortex Optics Viper 6.5-20x44 PA SFP Riflescope - Mil Dot MOA Reticle
Simmons 8-Point 3-9x50mm Rifle Scope with Truplex Reticle
Best Choice
UTG 3-9X32 1" BugBuster Scope, AO, RGB Mil-dot, QD Rings , Black
Good Choice
Bushnell Optics, Drop Zone Reticle Riflescope with Target Turrets, Matte Black, 1-4x/24mm
Don't Miss
Vortex Optics Viper 6.5-20x44 PA SFP Riflescope - Mil Dot MOA Reticle
Also Consider
Simmons 8-Point 3-9x50mm Rifle Scope with Truplex Reticle
Though it's a smaller caliber rifle, because it's semi-automatic, shooters are repeating shots in quick succession. Because of this difference between AR-15 style rifles and other types of rifles, the priorities of the scopes will shift.
In addition to the quality metrics that we look at when we compare the scopes for a 22 or a 30-06, we'll be focusing on eye relief and shock absorption, which will minimize recoil.
Another important consideration is the reticle or crosshairs. There's a lot of debate in this matter, with some shooters preferring simplicity while others appreciate the extra guides. Because there are strong opinions, we'll share our insights into each model. There's no right or wrong way to go with the reticle. It mostly depends on what you're using it for, and it's strictly a matter of preference.
For example, hunters might like hash marks that help them gauge the distance of their target, while target shooters and professional marksmen like a clean, unobstructed view.
Generally speaking, the higher the magnification and the larger the objective lens, the higher the price tag.
We also recommend getting a scope that has a parallax adjustment setting if you plan on shooting at distances longer than 250 yards. Not every riflescope has this option, but it makes a difference. You'll have the choice for an external parallax adjustment knob that's on the tube, or it could be part of the rotating ring on your objective bell. Other scopes have a built-in automatic parallax adjustment set at either 50 or 100 yards.
1. UTG 30mm SWAT 3-12x44 Compact IE Scope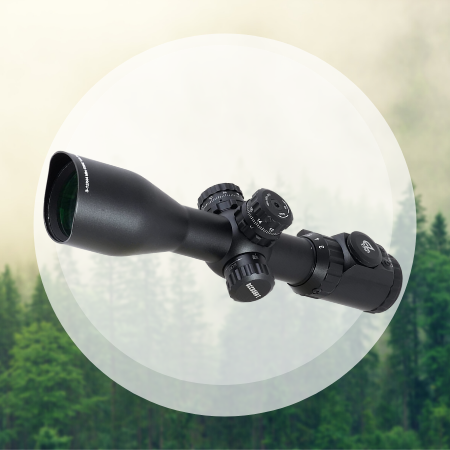 If you're new to the AR world and not sure where to start, the UTG made by Leapers is a top pick. It's modestly priced, but it still packs a ton of value. Despite the lower price tag, it still has advanced functionality that you typically only see on higher priced items. We also appreciate that all the necessary accessories are included. Often, you'll have to get your own mounting rings, sunshade, etc.
The illuminated reticle is a popular feature, and users also appreciate the zero-reset turrets that allow you to go back to your original zero if you make any adjustments for a shot. Not only that, but there's a locking mechanism so once you do have your settings, you can lock them in without worrying about accidentally adjusting them.
The UTG scope's accuracy is spot on at close range shots of about 300 yards, but it can deteriorate at longer distances. However, that's to be expected in lower-priced riflescopes, and it's not a deal breaker if you don't plan on shooting at 500-plus yards.
Bottom line: This scope is value priced. Realistically, you're not going to get the performance of a $500 piece of gear, but if you're just getting started, then this piece of equipment will adequately do the job.
Specs:
Magnification: Variable 3-12X
Objective lens: 44mm
Length: 8.5 inches
Weight: 23.2 ounces
Eye relief: 3.4 – 3 inches
Field of view: 32 feet at 100 yards (3x) | 10 feet at 100 yards (12x)
Adjustments: 1/4 MOA per click windage/elevation adjustment
Reticle: 36-color mil-dot
Parallax Focus: 10 yards to infinity
Pros
Zero-reset turrets
Includes sunshade
Flip-open lens cap
Side wheel adjustable turret for parallax
Mounts included
Illuminated reticle
Audible click adjustments
Nitrogen filled, waterproof and fog proof
Cons
The glass is clear for the price, but not crystal clear
Ring positioning is slightly low
2. Nikon P-223 3-9x40 Matte BDC 600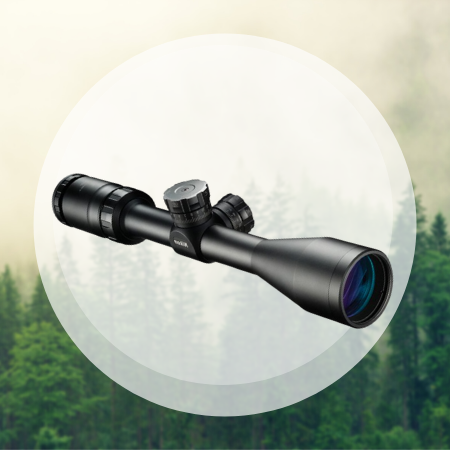 If you're shooting with .223 Rem or 5.56 NATO rounds that have a 55-grain polymer tip pullet, then the Nikon P-223 was made for you. The folks at Nikon thought of everything to make every shooting experience one to remember. From the hash marks at 100 to 600 yards to the zero-reset turret feature, you'll love the usability and accuracy of this scope.
As an optics expert, Nikon shines in this category. The glass boasts up to 98% light transmission, making it a leader in the field, even against higher priced offerings. The P-series was built specifically for AR-style rifles, with a reticle that provides compensation for the trajectory adjustments that come with long-range shooting.
If you love using tech, you'll also enjoy Nikon's proprietary software system called Spot On Optimized that helps you hone in on your target using their ballistic match technology with additional settings for climate, distance, and elevation conditions.
Bottom line: Once upon a time, business people use to say that "nobody gets fired for buying IBM," and the same adage applies when it comes to Nikon. The company's reputation is top-notch, and this particular scope is one of the best they've made. 
Specs:
Magnification: Variable 3-9X
Objective lens: 40mm
Length: 12.4 inches
Weight: 17.1 ounces
Eye relief: 3.6 inches
Field of view: 33.8 feet at 100 yards (3x) | 11.3 feet at 100 yards (9x)
Adjustments: 1/4 MOA fingertip windage and elevation adjustments
Reticle: BDC 600 (bullet drop compensation)
Parallax Focus: 100 yards
Pros
Superior light transmission
Crystal clear clarity
Precise hand-turn adjustments
Generous eye relief
Zero-reset turret feature
Nitrogen filled, waterproof and fog proof
Can be used with Spot On Optimized technology
Lifetime warranty
Cons
Gaskets on front eyepiece may stretch out over time
Some users complain that the controls are "mushy"
3. Nikon M-223 BDC 600 3-12x42SF Riflescope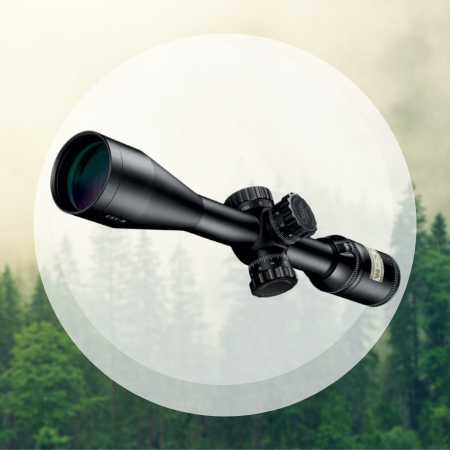 The Nikon M-223 (short for Monarch) is an upgrade from the baseline P-223, with five riflescopes offering a wider magnification range and a larger objective lens. As an expert in the field of optics, we expected superior quality and clarity from Nikon, and they did not disappoint. The theoretical maximum of 95% light transmission also means you'll see clearly from dawn to dusk.
It comes equipped with the features one would expect from a quality scope, including zero-reset, side parallax focus (up to infinity), and, of course, it's nitrogen filled, making it both waterproof and fog proof. The scope also comes standard with flip-up lens caps, which is a thoughtful touch and something that not all manufacturers provide.
If you're a reticle geek, you'll love the optional add-on Spot On Optimized app that allows you to match your bullet caliber to your distance and climate conditions to ensure better accuracy. Plus, the 3-MOA center dot in the reticle makes for fast aiming and accurate shooting. The bullet drop compensator is listed in 50-yard increments, making it more precise than 100-yard increment reticles.
Overall, this scope feels like an upgrade though it still comes in at an affordable price. If you're looking for a trusted name and elite performance, you'll love using the Nikon M-223.
Specs:
Magnification: Variable 3-12X
Objective lens: 42mm
Length: 13.1 inches
Weight: 19.93 ounces
Eye relief: 4 inches
Field of view: 33.6 feet at 100 yards (3x) | 8.4 feet at 100 yards (12x)
Adjustments: 1/4 MOA fingertip windage and elevation adjustments
Reticle: BDC 600 (bullet drop compensation)
Parallax Focus: 50 yards to infinity
Pros
Wide magnification range
Superior light transmission
Crystal clear clarity
Side focus parallax
Positive click reticle adjustments
Zero-reset
Comes with scope caps and an anti-reflection device
Compatible with Spot On Optimized technology
Waterproof and fog proof
Lifetime warranty
Cons
Some users report that the yardage lines are too thin
The view gets blurred at 12x magnification
4. Bushnell AR Optics Drop Zone-223 BDC Reticle Rifle Scope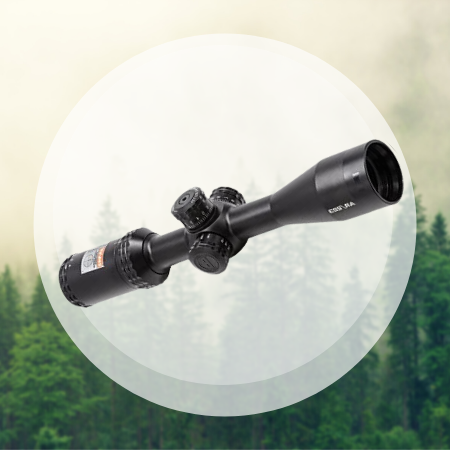 Referred to as the "working man's rifle scope," the Bushnell AR Optics functions well for coming in at a lower price point.
The only downside is that this scope carries a lot of bulk considering that the power magnification is on the low end of the spectrum. If you're trying to keep your gear lightweight, then you might find the heft of this Bushnell scope to be an annoyance.
You find a lot of bells and whistles with this scope. For example, there's not an illuminated reticle. Some might see this as a drawback while others would prefer not to pay for a feature they don't use.
The turrets are easily adjustable for windage and elevation, and the company has gone above and beyond in this department, especially considering it's a shorter-range scope. However, we appreciate the feature and option to have this capability. The reticle display also earns top satisfaction ratings. It has some additional viewing options but isn't cluttered. We think it's an ideal balance of functionality.
Bottom line: If you're on a budget but still want quality gear, the Bushnell AR Optics Drop Zone-223 is one to try. The lower power range keeps the price reasonable, so if you're not shooting long distances, you'll get a great bargain with Bushnell.
Specs:
Magnification: 1-4x
Objective lens: 24mm
Length: 9.299 inches
Weight: 16.90 ounces
Eye relief: 4.0 inches
Field of view: 112 feet at 100 yards (1x) | 26 feet at 100 yards (4x)
Adjustments: 1 click is 0.1 mil for elevation and windage
Reticle: BDC
Pros
Inexpensive
Holds zero
High contrast images
Intuitive controls
Waterproof and fog proof
Lifetime warranty
Cons
Bulky
Limited magnification
5. Simmons 8-Point Truplex Reticle, 3-9x50mm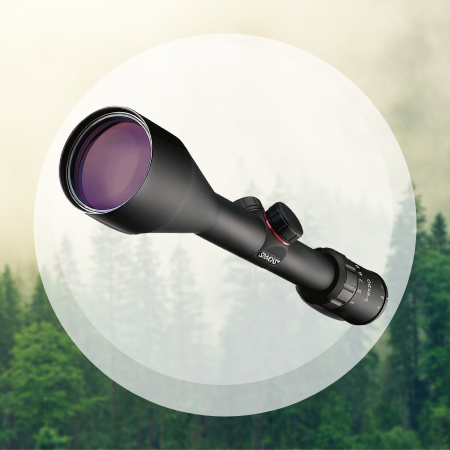 Bargain hunters rejoice. We found the perfect scope for your AR-15: the Simmons 8-Point 3-9x50mm riflescope. Despite its shockingly low price tag, it measures up as a quality scope that won't break the bank.
All Simmons models come equipped with fully coated optics that provide a bright, crisp and clear view of your target in diverse weather and lighting conditions. We also appreciated their trademarked SureGrip system that provides audible clicks for windage and elevation adjustments. Further, the TrueZero stays at zero, even when put to the test.
Bottom line: While this scope is relatively basic, you get a long of bang for your buck. You really can't beat this price, especially if you're looking for value for a novice to an intermediate shooter. If you're an avid shooter, it might not hold the test of time, so look to Nikon for an upgrade that's still reasonably priced.
Specs:
Magnification: Variable 3-9X
Objective lens: 50mm
Reticle: Truplex reticle
Length: 14 inches
Weight: 13.2 ounces
Eye relief: 3.75 inches
Field of view: 31.4 ft @ 3x | 10.5 ft @ 9x
Adjustments: 1/4 inch MOA finger click adjustments
Pros
Inexpensive
Fully coated optics
High clarity for the price
Quick target acquisition eyepiece
Waterproof and fog resistant
Cons
Doesn't always hold zero as promised
Doesn't tend to last as long as the higher-priced gear
The rings may come loose over time, so check and tighten frequently
6. VORTEX Viper 6.5-20x50 PA Riflescope
If you're a long-range shooter, then the Vortex Viper 6.5-20x50 should be at the top of your list. It's superior at dampening recoil, and excels in all conditions, including darkness and moisture. For serious shooters who want a premium product, you've found your match.
The taller than average turrets are easy to adjust for quick maneuvers and better accuracy. There's also a side knob parallax adjustment, complete with range numbers that you can view when you're in shooting position.
Like all Vipers, this one also has XD extra-low dispersion glass and XR fully multi-coated lenses to provide the brightest and sharpest image available. The fast-focus eyepiece also allows you to quickly focus at any magnification. We also appreciate the capped reset turrets for lightning fast indexing.
This scope is especially popular among tactical shooters especially those with military training as the Mil-Dot reticle used in this model is the same that originated from the US Marines. Further, the second focal plane reticle maintains scale for optimum accuracy. When you're shooting from longer ranges, the riflescope's ability to provide distance estimates and compensation for bullet drop and windage will ensure your accuracy.
Bottom line: The VORTEX Viper is rugged and durable, and it performs flawlessly. If you're a discerning shooter who likes to shoot at long range, then you'll appreciate the quality, attention-to-detail, and accuracy provided by this scope. Don't be surprised if it exceeds your expectations!
Specs:
Magnification: Variable 6.5-20X
Objective lens: 50mm
Length: 14.4 inches
Weight: 21.6 ounces
Eye relief: 3.1 inches
Field of view: 17.4 feet at 100 yards (6.5x) | 6.2 feet at 100 yards (20x)
Adjustments: 1/4 MOA fingertip windage and elevation adjustments
Reticle: Mil Dot
Parallax Focus: 50 yards to infinity
Pros
Wide power magnification
User-friendly zero-reset feature
Superior light transmission
Crystal clear image, even at high power
Fast-focus eyepiece
Convenient, side-focus parallax adjustments
Argon-purged, waterproof and fog proof
Unlimited warranty
Cons
The zoom ring is a bit stiff
The second focal plane structure isn't ideal for tactical or long-range applications (in some people's opinions)
7. UTG 3-9x32 Compact QCB Bug Buster AO RGB Scope
This UTG scope from Leapers comes in as one of our favorite riflescopes for under $100. It gives you serious bang for your buck. It's rare for equipment in this price range to be so durable, rugged, and hold up to such diverse conditions, but the UTG Bug Buster holds up.
The adjustable and lockable turrets are one of the most significant stand-out features. Once you zero in with a particular rifle or type of ammo, you're good to go for the foreseeable future. It sticks nice and tight, performing better than other scopes that are priced much higher.
To maximize the light transfer, the UTGs come with emerald-coated lenses. There's also a parallax adjustment ring that works out to infinity.
For the uninitiated, CQB means close quarter battle. These are best suited for immediate threats in close proximity. Having crisp quality optics, a fast-focus reticle and dependable performance aren't just "nice to have" features; they're a must. We particularly like how short this UTG Compact scope is because it fits perfectly without taking up too much space.
Another incredible feature is the quick detach rings that allow you to switch out your scope in seconds once you've determined your tightness settings.
This riflescope comes standard with red and green dual illumination for the reticle. There's also the option for a black reticle, hence the style RGB, but the black is not illuminated. Some users have been lured by the promise of having a broader color palette, but they often express regret and confusion. Red and green are really all you need for virtually any lighting condition.
Bottom line: Even elitists will find something to love with the UTG scope. Don't be fooled by the low price. This here is a quality riflescope.
Specs:
Magnification: Variable 3-9X
Objective lens: 32mm
Length: 9.8 inches
Weight: 13.9 ounces
Eye relief: 4 inches
Field of view: 33.8 feet at 100 yards (3x) | 11.3 feet at 100 yards (9x)
Adjustments: 1/4 MOA fingertip windage and elevation adjustments
Reticle: BDC (bullet drop compensation)
Parallax Focus: From 3 yards to infinity
Pros
Well-built and durable
Clear optics for the price point
Quick detach rings
Shorter length
Illuminated
Includes range estimating mil-dot reticle
User-friendly controls
A large field of view
Includes sunshade and flip-open lens cap
Finger adjustable knobs with a locking system
Parallax adjustment
Nitrogen filled, waterproof and fog proof
Cons
Sunshade and dust cover aren't a good fit (too loose)
Crosshairs lose focus at high power
8. Nikon ProStaff 3-9x40 Black Matte Rifle Scope BDC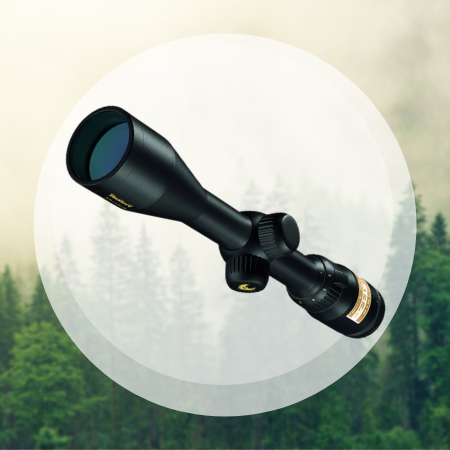 The Nikon ProStaff is known for its accuracy, and it gets top ratings for being fun to shoot. The high-quality optics translate well for long-range shooting distances. The BDC 150 reticle lets shooters compensate for long-distance bullet drops, but the crosshair style is also suitable for close-range shots, too.
Where this scope performs best is when you consider the glass itself. There's a fully multicoated optical system that has advanced anti-reflective compounds. So, whether you're shooting at dawn, dusk or midday, you'll have a clear view.
Available as an add-on with all BDC Nikon scopes is their proprietary software system called, "Spot-On Optimized" that helps you identify where to hold the BDC reticle for each type of bullet or load that you're shooting. You'll need to download an app for it to work.
Bottom line: Everyone seems to love this offering from Nikon. Top commenters mention that it works flawlessly, and they like how it looks and feels. It's also one of the best we looked at for low light conditions. At this price, you can't go wrong!
Specs:
Magnification: Variable zoom 3-9X
Objective lens: 40mm
Length: 12.3 inches
Weight: 13.1 ounces
Eye relief: 3.6 to 3.9 inches
Field of view: 33.8 feet at 100 yards (3x) | 11.3 feet at 100 yards (9x)
Adjustments: 1/4 MOA fingertip windage and elevation adjustments
Reticle: BDC (bullet drop compensation)
Parallax Focus: 50-yard fixed parallax setting
Pros
High-quality matte finish that looks more expensive than it is
Adjustable zoom and focus
Superior light gathering
Zero-reset turrets
Includes Spot-On Optimized software
Generous eye relief
Perfectly threaded turret covers
Fully multicoated lenses
Waterproof, fog proof, and shockproof
Lifetime warranty
Cons
It only has 1/2 inch click at 50 yards and 1/2 inch at 100 yards, but that's not terrible for a rimfire scope.
Limited to a 50-yard fixed focus with no adjustable objective lens.
Eyepiece and zoom ring are not as high-quality as other Nikon models
9. Bushnell AR Optics FFP Illuminated BTR-1 BDC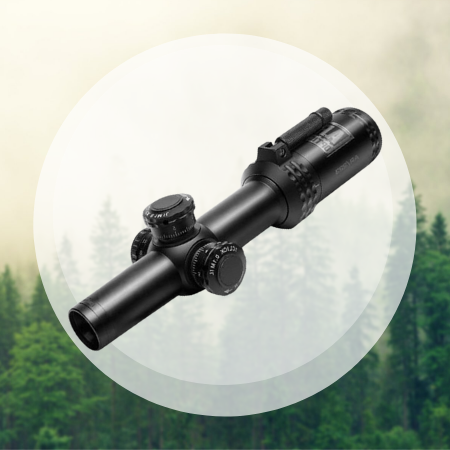 This first focal plane scope is ideal for a variety of situations. It works equally close up as well as at long distances. It also has an illuminated reticle, which is a handy feature. Because Bushnell has been in the optics field since 1948, they've had a long time to optimize their operations, allowing them to provide enthusiasts with premium quality at affordable prices.
You'll hear none of the horror stories that tend to come with cheaper priced scopes. For example, low-budget riflescopes often have reticles that practically disintegrate, shifting points of impact, and the inability of the unit to hold zero. You won't hear of that with the Bushnell AR Optics FFP scope, though. They provide a good solid optic, and if anything does happen to go wrong, your equipment comes with a lifetime warranty.
Bottom line: First focal plane scopes tend to be more expensive, and this Bushnell remains competitively priced. The thoughtful details make this worth the money, and we think it's still a relative bargain. If you are looking for an even better price, the second focal plane model of this scope is lower priced.
Specs:
Magnification: 1-4x
Objective lens: 24mm
Length: 9.5 inches
Weight: 18.2 ounces
Eye relief: 4 inches
Field of view: 112 feet at 100 yards (1x) | 26 feet at 100 yards (4x)
Adjustments: 1/4 MOA fingertip windage and elevation adjustments
Reticle: BTR-1 MIL
Parallax Focus: Fixed
Pros
First focal plane reticle
Illuminated reticle
Multi-coated glass
Side adjustment lever
Clearly marked controls
Wide field of view
Flip-up lens caps
Thoughtful lever magnification adjustment
Nitrogen purged, waterproof, fog proof
Lifetime warranty
Cons
No scope covers included
Not a lot of illumination at 1x power or bright light conditions
Slightly heavier than comparable models
How to Choose a Rifle Scope for an AR-15 – Buying Guide
The first question to ask yourself is what type of shooter you are. Though there has been some overlap and fluidity in the functionality of modern scopes, there are still differences depending on whether you want to use your riflescope for hunting, tactical operations or target shooting.
Here are some things to keep in mind depending on your style:
Hunting
These scopes tend to have a lower magnification range. At the lower end of the range, you'll see a 2, and they tend to max out at around 12. They tend to have a second focal plane that keeps the crosshairs at the same size, regardless of your magnification level.
Speaking of the reticle, they're usually plain without any hash marks or other markings. This allows the shooter to focus on the target without anything obstructing the view. Ideally, a hunting scope will also have capped, low-profile turrets. The purpose of this is to only have the turrets exposed to zero the scope, and then you would put the caps back on. The explanation behind this practice is that a hunter is typically only taking one shot at a medium to close range.
That being said, there are some newer models that have ballistic and BDC turrets for advanced and longer-distance shooters.
To sum up, if your main purpose is hunting, you're likely to need a lower magnification scope with intuitive, tactile controls and a clean-looking reticle. If you plan on hunting during dawn or dusk hours (and most hunters do), make sure your top choice has high clarity that performs well in low-light settings.
Tactical
These scopes tend to have uncapped turrets, and most of them are first focal plane reticles. This type of reticle features crosshairs that get larger when you zoom in. The magnification ranges tend to be higher, starting at about 3 and topping out at 25, though some can be as high as 45x.
For these scopes, you'll want to focus on reliability, and you'll probably also want something that's lightweight and can be handled easily in situations that pose an immediate threat.
Tactical scopes are designed to be accurate when the shot distances are unknown, and you have to be accurate in a single attempt. The advanced reticles in tactical scopes may allow you to estimate distances, however. If that's a feature that's important to you, then seek out reticles that provide more detail.
Target
Target scopes are meant for precision shooting, and they're ideal when you're doing groupings for 10 to 20 shots at a time. The best scopes will assist you in getting the tightest possible grouping. Target riflescopes tend to have the highest magnifications, which also tends to mean the highest price tag.
They also have the finest clicks, often around 1/8 MOA, which allows you to finely tune the scope for tightknit groupings. These reticles tend to be in the second focal plane, and they tend to be plain basic crosshairs. When it comes to the thickness of the crosshairs, the thinner, the better.  
Within each of these three groups are subgroups of interests that can also influence what you'd look for in your gear. For example, a wide-angle hunting scope would be ideal for deer hunts, but that might not be the best scope for stalking. There are also some riflescopes better suited for long range or low-light use. Alternatively, someone might prefer something that's better for "all around" use.
Once you've identified your exact usage, you'll want to consider your budget. There are quality choices at every price point, though it typically helps first to decide if you'd like to spend more than $200 or less than $200. This demarcation tends to narrow down the field and help you hone in on the best choice for your needs.
After you figure out your budget, then it's time to look at the exact features that are important for your needs. We'll discuss more of the fine details below, but here are some things to consider:
Magnification
How much zoom or power do you need?
Lens quality
How important is a clear, bright image?
Zeroing mechanisms
How important is a reliable zero to you? Do you need it to hold?
Weather conditions
Will you be shooting in the rain or fog?
Eye relief
How much recoil can you tolerate? How close do you like to hold your weapon?
Design
Do you want something sleek? Compact? Does it matter?
Usability
How important are the controls? Do you want them to be simple? Do you like complexity? Do you care if they're easy to manipulate? Will you be wearing gloves or trying to use your scope in the rain or cold (which would necessitate better controls)?
What are the Types of Rifle Scopes?
Before we go further, it might help to clarify that a rifle scope is not the same thing as a gun sight. Even though both riflescopes and gun sights aid the shooter in aiming, a scope provides magnification, and a gun sight doesn't.
Keep in mind that there are different scopes for hunting, target, and tactical operations. Some riflescopes are illuminated, while others aren't. There are also both first and second focal plane scopes, and some manufacturers are even creating a type of hybrid that provides shooters with the best of both worlds.
4 Main Scopes
Compact: As the name suggests, these scopes are fully functional, but they're more compact. They come with some other advantages, too, namely a wider field of view and quicker target acquisition. These are ideal if you plan on doing close-range hunting or engaging in tactical operations or combat in confined areas.

A compact scope is often less expensive as well, and it can be faster and easier to mount and sight.
Sniper: These are meant for long-range distances for tactical shooters. In addition to a longer range, they tend to have more clarity and precision instruments that boost accuracy and confidence. They'll also have advanced controls that allow you to adjust for windage, elevation, and parallax.
Laser Rangefinder: A laser rangefinder has a laser beam that bounces off your target and allows you to calculate exact distance. These often have military applications and can work at distances from 2 to 25 kilomete3rs.
Pistol: A handgun or pistol scope is helpful if you want to hold your gun farther away, like at arm's length. Using this apparatus can take some getting used to. Still, if you need magnification, they're helpful in boosting shot accuracy.
Advantages of Using a Rifle Scope
When you consider all of the advantages of using a riflescope, even the priciest models can pay for themselves within a season or two. Here are eight benefits that can't be ignored:
Improved accuracy: Having your target in your sights helps improve your accuracy. Over time, your shooting ability even without a scope will improve as you get positive reinforcement.


Increased range: Magnification helps to dramatically increase how accurately you can shoot at a distance.


More self-confidence: The more targets you hit, the better you'll feel about your ability.


Clearer pictures: You actually get to see exactly where you're pointing.


Takes out the guesswork: Now you get estimates of distance so that you know exactly how far away a shot is.


Saves ammunition: When your accuracy improves, you don't need to use as many bullets.
Safety: If you're in a dangerous situation, you can shoot safely from a distance.
More hunting hours: Illuminated scopes or bright glass can improve your visibility, adding more minutes or hours to your hunting expedition.


Tips to Choose Top Rifle Scopes
When you add up all the options there are more than 1,000 scopes to choose from, so how do you narrow down the field? Even among our list of ten, you still have to figure out the one that works best for you. Here are our top five tips to help you narrow it down to a top choice that fits your needs:
Double (or triple) check to make sure your scope and rifle are compatible.
Know how much you want to spend. By deciding your upper (or lower) spending limit, you can eliminate options that don't meet that criteria.
Consider the warranty. Most companies offer a limited lifetime warranty, though some offer a VIP warranty. Check with the manufacturer for the terms of the warranty and make sure you feel comfortable with any of the limitations.
Decide if there's a "must have" feature for you or if anything is a deal breaker. If you must have a reticle in the first focal plane, that will also narrow the field. Similarly, your choices also become more limited if you want illumination or a scope that's a certain size or weight.
Look at the cons. Every riflescope is loaded with advantages, but each has at least one disadvantage. Look at those first. If a brand has something you don't like, you can immediately cross it off your list.
Getting to Know AR 15 Scopes / Buying Guide
If you've bought scopes before, you're likely familiar with the terminology already, but in case you're a beginner or need a refresher, here are the terms you'll see as you browse a sea of product descriptions. We'll define each and discuss why they're important.
Magnification
A variable scope will have two numbers that represent the magnification or power. For example, if you see something that says "3-9x50," that means that the lens can magnify the target by a factor of three to nine times or 3-9x. The 50 would be the diameter in millimeters of the objective lens, which is the lens farther away from you. This lens lets the light in, and, in general, the bigger this number, the more light you can expect.
Reticle
Commonly known as crosshairs, the reticle allows you to see precisely where you're aiming. There are several ways this can be displayed. How thick or thin a shooter wants the reticle to be will depend highly on the application. Thicker bars or lines allow the shooter to identify the target easily, but they can obstruct the view of the finer details of the shot.
A thin reticle lets the shooter see more of the target, but the lines themselves can be hard to see. In modern scopes, you'll often see a duplex reticle in use. 
Duplex Reticle
The duplex reticle is one of the most popular types of reticle displays. It features thicker lines on the perimeter to help the eye quickly identify the target, but the lines become thin near the center of the circle, which helps the shooter aim more precisely.
Mil-Dot Reticle
Also referred to as "range estimating," a Mil-Dot reticle is meant for when you don't know the distance to your target and you don't have a way of determining it. The Mil-Dot reticle will help you calculate and determine the distance for more accurate shooting. It does require you to make some of your own calculations, though.
However, the manufacturer will give you a card that tells you what calculations to make to determine the range to your target. You'll also need to know the approximate size of your target in order to make the calculation. Though it can get a bit complicated, it will give you a general idea of the distance to your target, and you'll get better the more you practice.
BDC Reticle
Short for bullet drop compensation, with a BDC reticle, you zero on 100 yards and then there are dots or hash marks below your zero that are listed in either 50 or 100-yard increments. This type of reticle is fast becoming one of the most popular because it's easy to use. In order to properly use a BDC reticle you must know your range, so if you don't know it you might need to use a laser rangefinder in conjunction with your BDC reticle. Often you won't know your range organically unless you're shooting in an area that has marked targets.
As the name suggests, bullet drop compensation will alert you to how far the bullet will drop at a specific range. If there are dots or hash marks on either side of the center, then these represent windage, and this calculation is used for windy conditions.
Minute of Angle and MRAD
Your scope may measure in MOA or MRAD. Minute of angle, also called MOA, is a common scope measurement that baffles many novice and intermediate shooters alike. In simple terms, a minute is a measure of inches with one minute meaning one inch. One minute is equal to 1/60th of a degree. In MOA, the angle is a measure of yards.
So, one minute of angle is equal to one inch at 100 yards. If someone says that their rifle shoots at 1 MOA, it means that their bullets will form a 1-inch grouping at 100 yards and a .5-inch grouping at 50 yards.
MRAD, short for milliradian, is an angle of measurement that's one-thousandth of a radian. When you look at turret adjustments on a scope, you would seem them expresses as .1 MRAD. For your reference, .1 MRAD is equal to .344 MOAs.
The overall concept of these two measurements is the same, just expressed at a different scale. They are both an angular unit of measurement, though the MOA adjustments are generally considered more precise and MRAD adjustments are coarser.  
Focal Plane
A focal plane can be either first or second focal plane, and this classification will describe how the reticle scales as you zoom in on your target. The most common focal plane is the rear or second focal plane. Traditional hunting rifle scopes often have this type of focal plane. What this means is that the reticle is placed behind the magnification adjustment lens.
When it's placed there, the size of the reticle remains constant as you up your power. That's because the reticle is behind the magnifier, not in front of it. The benefit of this setup is that your reticle stays visible because it's a constant size. The disadvantage is that if you're using trajectory compensation, the values will only work at a single magnification setting.
With a first or front focal plane, the reticle is placed in front of the magnifier, causing the reticle to also increase in size as you zoom. As you grow or shrink your magnification, the reticle also changes size. The advantage is that any trajectory marks will always be accurate, but the disadvantage is the finely detailed reticle marks can be hard to see at lower magnifications.
Parallax
Parallax refers to the misalignment that occurs between your eye, the target, the lenses, and the reticle don't perfectly line up. Usually, this happens when your eye isn't directly centered on the eyepiece, but it also happens at higher magnifications. 
To you, the shooter, it looks like the crosshairs are aimed perfectly, but they're actually off, resulting in your bullet landing somewhere else than you expected it. Many mid to high-range scopes are designed to be parallax-free at a set distance, or they'll have a parallax adjustment dial that will allow you to compensate.
Final Tips to Find the Best AR 15 Scope
By this point, you've figured out what features you need to best suit your shooting style and skill level. But within each type of scope, there are varying price points, even among items that seem to stack up equivalently in terms of features and quality. Now you have to determine how much you're willing to spend on this piece of equipment.
The old rule of the thumb was that your scope should cost at least as much as your rifle. After all, it's the key to accurate target acquisition. However, the attitude is beginning to shift as people look for more decently priced options that allow them to spend more on ammunition.
So, if you've narrowed your list down to a couple of scopes that seem similar but have a different price tag, consider how much you plan on shooting and how much ammo you'd like to buy. You might decide to skimp on a superfluous feature so that you can afford more ammunition, or you may prefer to splurge on an upgrade and then make do with less ammo when you go out shooting.
Conclusion
Today's optics are better than ever. Over the last few years, scopes have become lighter weight and the adjustments can be easily fine-tuned for unprecedented shot accuracy, even among novice and intermediate shooters. Discerning customers have been unforgiving when it comes to quality, and manufacturers have responded by creating better scopes at lower price points. It's a win-win.
With hundreds of AR scopes to choose from, we know that making a choice can be a daunting task. With this guide, we narrowed it down to our top favorites, and we'll continue to update our list if we find other gems.