Looking for a new scope for your 22 or 22lr rifle? Wondering what the difference is between a scope that retails for $29 and one that costs $1,000 or even $2,000? From a distance, they all look fairly similar, but the performance can vary drastically, even among similarly priced scopes.
Image
Editor's Pick
Good Choice
Don't Miss
Also Consider
Product Name
BSA 3-9X40 Sweet 22 Rifle Scope with Side Parallax Adjustment and Multi-Grain Turret, Black Matte
Vortex Optics Crossfire II 2-7x32 Rimfire, Second Focal Plane, 1-inch Tube Riflescope - V-Plex...
Simmons Truplex .22 MAG 3-9x32mm Riflescope, Waterproof and Fogproof Rimfire Rifle Scope
TRUGLO 4x32mm Compact Rimfire and Air RIfle Scope Series, Duplex Reticle, Black
In this article, we'll share our top picks for the best 22 and 22lr scopes. We've narrowed down the field from hundreds to a handful that we feel perform well and provide exceptional value for their price you'll pay.
Before you begin shopping for a scope, it helps to recognize what kind of shooter you are, your skill level, your shooting conditions, and, of course, your budget. Generally speaking, people choose to mount a scope on their rifle for two reasons:
It's faster (and easier) to look through the scope at your target than lining up the front and rear sights.
Scopes can provide magnification of the target, which increases your ability to shoot accurately.
However, given the performance differences and the variety of feature sets between scopes, a model that fits someone else's needs might not be the best choice for you. Some hunters in extreme weather conditions need superior glass clarity, while others who hunt early in the morning might want something that performs best in low light conditions. As we evaluate each of the scopes on or list, we'll also identify what type of person each one will suit best.
Top Scopes for the .22lr Rifle
1. Bushnell Banner Dusk & Dawn 4-12x40mm Riflescope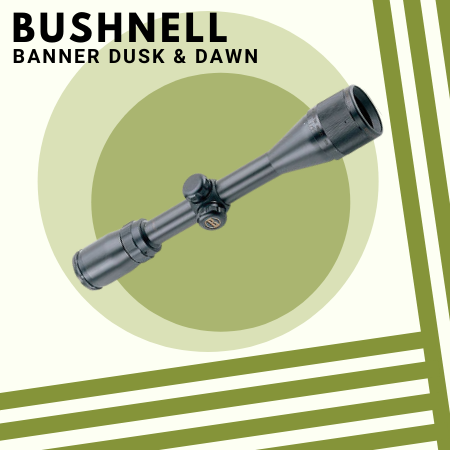 The Bushnell 4-12x40 gets top marks, and it is considered one of the best scopes available for the price point. It has the features and performance of riflescopes that cost twice as much.
It also helps to consider that Bushnell has over 65 years of experience in high-performance sports optics, not only in hunting, but also spectator sports, fishing, stargazing, and nature study. They've mastered both the art and science of focus, durability, and usability.
One of the things we appreciate most about this Bushnell scope is its flexibility and versatility. The variable zoom of 4 to 12X makes it suitable for most conditions. Plus, the larger 40mm objective lens allows more light to pass through, providing a brighter and clearer image in low-light conditions.
The objective lens also allows for parallax corrections, increasing your shot accuracy for long range attempts.
To ensure good visibility in all light and weather conditions, the Bushnell Banner Dusk & Dawn Riflescope has multi-coated lenses. In addition to improving light visibility, this coating also resists fog and water, which would ordinarily cloud your field of vision.
All in all, this scope is one of the top choices for hunters, especially those looking for a versatile piece of equipment. As the name suggests, the dusk and dawn hours are where this riflescope shines. Though the price point is relatively modest, its performance competes with models that are twice the price.
Specs:
Magnification: Variable zoom 4-12X
Objective lens: 40mm
Reticle: Multi-X
Length: 12 inches
Weight: 15 ounces
Eye relief: 3.3 inches
Field of view: 29 ft at 100 yards (4x) | 11 ft at 100 yards (12x)
Adjustments: 1/4 MOA fingertip windage and elevation adjustments
Parallax Focus: From 100 yard-infinity
Pros
Incredible price-to-value ratio
Superior performance in low light conditions
Compact and durable
Multi-coated lenses
Variable magnification
Fast-focus eyepiece
Parallax correction
Fog and waterproof
High-quality matte finish
Cons
Turret knobs are smaller than average and can be hard to read
Thicker crosshairs make it ideal for hunting, but not as desirable for target shooting
2. BSA Sweet 22 Rifle Scope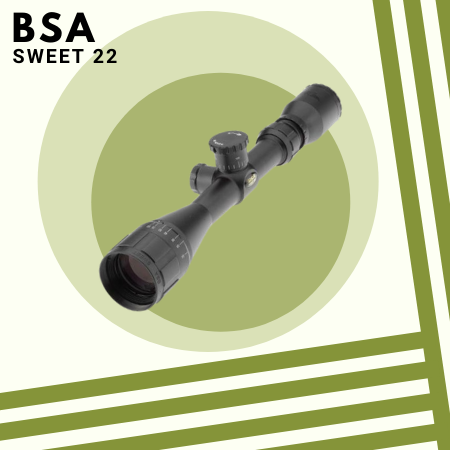 The BSA Sweet Series 22 rifle scopes were originally designed for military sniper applications due to their trajectory compensation, but they are now becoming increasingly popular among hunters and target shooters as well.
This series comes in several magnification options, but for the purpose of this review, we evaluated the 3-9X variable magnification. Other magnifications available include 2-7x, 4-12x, and 6-18x. There are also fixed magnifications available.
Though this item comes at a lower price point, it performs exceptionally well in terms of optics, getting favorable feedback for clarity. BSA as a whole seems to have made recent improvements in this area. It also boasts remarkably accurate turret calibration, and the clicks are audible, which many people find to be helpful. Further, the fast-focus clarity both up close and at a distance works very well as most users can attest.
Bottom line: don't dismiss this scope as "junk" just because it's not expensive. Though generally speaking you get what you pay for, we found that the BSA line is underrated and a quality piece of equipment. If you're a novice or still finding your "sweet spot," this item from BSA is a great place to start.
Specs:
Magnification: Variable zoom 3-9X
Objective lens: 40mm
Compensation drum: 0.36gr., 0.38gr., and 0.4gr.
Length: 13.7 inches
Weight: 16.2 ounces
Eye relief: 3 inches
Field of view: 40 ft at 100 yards (3x) | 13 ft at 100 yards (9x)
Adjustments: 1/4 MOA fingertip windage and elevation adjustments
Parallax Focus: From 7.5 yard-infinity
Pros
Multi-grain trajectory compensation
Variable magnification
Fast-focus eyepiece
Parallax correction
Multi-coated lenses
Fog and waterproof
Includes sunshade
Includes threaded metal caps
Cons
The thicker crosshairs can make long-range accuracy a challenge
Not as accurate at distances beyond 150 yards
3. Vortex Crossfire II Rimfire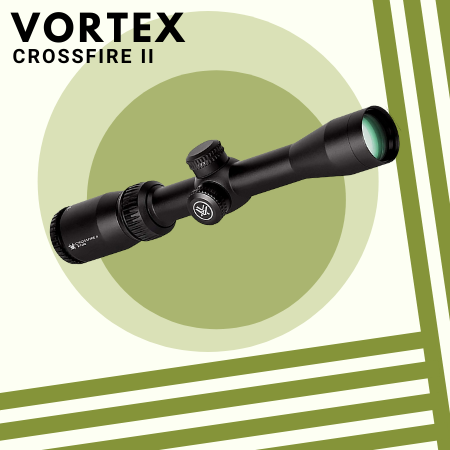 Boasting aircraft-grade aluminum, the Vortex Crossfire II Rimfire this lightweight apparatus is lightweight, durable and comes with a lifetime guarantee. Though affordable, the Vortex Optics line of gear gives the appearance and experience of a much higher price tag.
We appreciate the universal appeal of the Vortex Crossfire, starting with the V-Plex reticle that's best for all-purpose hunting to the sturdiness of the design and construction.
The long eye relief and the comfortable and forgiving eye box that allows you to sight quickly and acquire your target faster. This is also thanks in part to a superior fast-focus eyepiece. We also appreciate the anti-reflective, fully multi-coated lenses provide bright and clear views.
The body has capped turrets that are adjustable with smooth, tactile MOA clicks. Naturally, they can also be reset to zero after you sight in.
Bottom line: You get an advanced quality scope at an entry-level price. It's also compact, lightweight and durable. And, because it comes with a lifetime warranty, you can expect years of enjoyment. Dollar for dollar, the Vortex Crossfire II Rimfire is hard to beat!
Specs:
Magnification: Variable zoom 2-7X
Objective lens: 22mm
Length: 11.3 inches
Weight: 14.3 ounces
Eye relief: 3.9 inches
Field of view: 42 feet at 100 yards (2x) | 12.6 feet at 100 yards (7x)
Adjustments: 1/4 MOA fingertip windage and elevation adjustments
Parallax Focus: From 50 yards
Pros
Premium, aircraft-grade materials
Superior performance in low light conditions
Compact and durable
Fully multi-coated lenses
Second focal plane reticle
Variable magnification
Fast-focus eyepiece
Parallax correction
Fog proof, shockproof and waterproof
ArmorTek scratch-resistant coating
Capped reset turrets
High-quality matte finish
Cons
At higher magnifications, the crosshairs aren't as fine
Image not as high quality when magnification increases
4. Leupold VX-II 3-9x33 EFR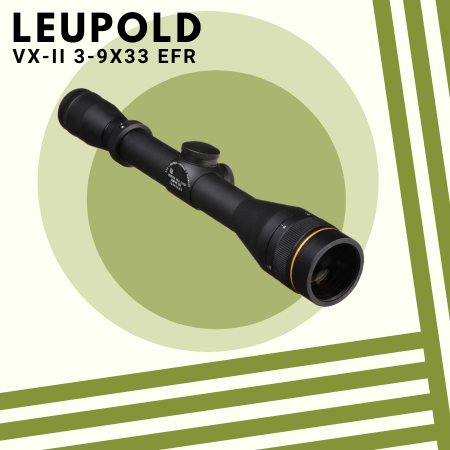 The Leupold promise is that your shots will be deadly accurate, regardless of the conditions. This brand is trusted most by US military personnel. When you also consider that the VX-II is their best-selling range of riflescopes, then it's easy to see why this winner made it onto our list.
The precise controls allow you to act quickly and accurately. As soon as your target is in sight, you'll be able to quickly dial in your target and be instantly ready to pull the trigger with precision.
The design and engineering teams at Leupold thought of everything, including the exclusive Index Matched Lens System that provides different coatings for each type of glass, providing an enhanced and custom experience. The lens edges are also blackened to provide greater contrast and a brighter image.
The controls are also well-marked and thoughtfully placed at a slant for convenient visibility. The wide duplex reticle allows for quick sighting, though accuracy may be compromised for long distance shooting.
Bottom line: If you're looking for something more upscale but still reasonably priced, you'll appreciate the fine detailing and craftsmanship of the Leupold range. This heirloom piece is meant to be cherished for a lifetime or passed down to future generations.
Specs:
Magnification: Variable zoom 3-9X
Objective lens: 33mm
Length: 12.6 inches
Weight: 11.2 ounces
Eye relief: 3.7-4.2 inches
Field of view: 34 feet at 100 yards (3x) | 13.5 feet at 100 yards (9x)
Adjustments: 1/4 MOA fingertip windage and elevation adjustments
Parallax Focus: 50 yards
Pros
Indexed matched lens system
Superior low light performance
Crystal clear glass
Variable magnification
Fast-focus eyepiece
Fog and waterproof
Lightweight
Durable
Tastefully designed with iconic styling
Designed, machined, and assembled in the USA
Lifetime warranty with no restrictions
Cons
The power adjustment ring can be difficult to use in cold weather while wearing gloves
Some people find the gold accents over the top
5. Nikon P-RIMFIRE 2-7x32 Nikoplex Rifle Scope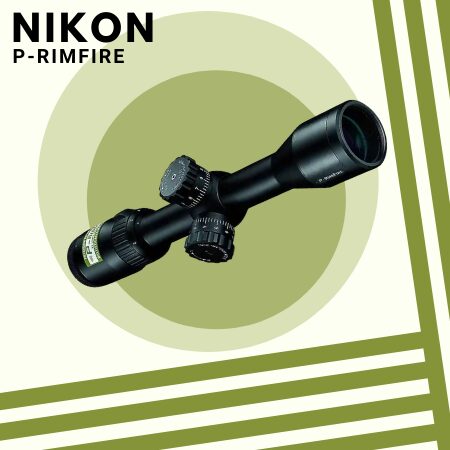 There's no doubt that Nikon knows optics, but can they make a good rifle scope? The answer to this question is a resounding yes. Whether you're a casual hobbyist, a sporting enthusiast or a serious sportsman, Nikon provides bright and clear views with precision targeting, all in a ruggedly durable package.
Plus, it helps that Nikon's riflescopes hold true to their reputation for having crystal clear optics. This model is easy to use, accurate, and ideal for a variety of skills. You really can't wrong with this option. The only caveat is to get the BDC version instead if you want a more tactical item.
Nikon recognizes that your gear is useless if it breaks or malfunctions out in the field. That's why their items include O-ring seals to lock out moisture and nitrogen purging to ensure fog resistance.
The top-rated features of this item include the positive click when you adjust the turret, the ability to instantly zero-reset, and a favorable price-to-value ratio.
If you're looking for top performance at a moderate price point, then you can't go wrong with the Nikon P-RIMFIRE. Even people who have chosen this after using models at higher price points are happy with their decision to trust Nikon.
Specs:
Magnification: Variable zoom 2-7X
Objective lens: 32mm
Length: 11.5 inches
Weight: 16.2 ounces
Eye relief: 3.8 inches
Field of view: 22.3 feet at 100 yards (2x) | 6.4 feet at 100 yards (7x)
Adjustments: 1/4 MOA fingertip windage and elevation adjustments
Parallax Focus: 50-yard parallax setting
Pros
Rapid Action Turret System for High Velocity and Hyper Velocity
Superior low light performance
A fully multi-coated optical system
Zero-reset turret feature
Variable magnification
Fog and waterproof
Durable
Eliminates parallax
Cons
Sticker on the product is obtrusive, but it peels off easily
Accommodates tactical rifles better than hunting rifles
6. Simmons .22 Mag TruPlex Reticle Rimfire 3-9x32mm Riflescope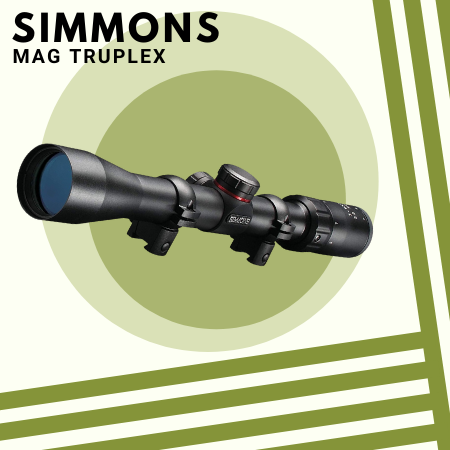 The Simmons Reticle Rimfire Riflescope is shockingly inexpensive. This item is equipped with the same features that more expensive models have that cheaper scopes lack. When you receive it, you'll be hardpressed to know that it sells for such a low price.
It has a clean Trueplex Reticle, which provides a high contrast image with heavy lines at the outer edges that become finer at the aiming lines.
What we think truly sets this item apart from even the more expensive options is the inclusion of SureGrip adjustments that make the dials easy to maneuver, even with gloves.
The brightness and clarity are above average, especially considering the low price, but this scope isn't going to provide a stellar experience during low light situations, and you can also expect some distortion and vignettes.
For this price point, Simmons is the best in its class. If you're on a tight budget or purchasing something for a beginner, this is a top pick. They've been dominating the value-priced market since 1983, and they continue to get better and better.
Specs:
Magnification: Variable zoom 3-9X
Objective lens: 32mm
Length: 10.3 inches
Weight: 16.2 ounces
Eye relief: 3.75 inches
Field of view: 31.4 feet at 100 yards (3x) | 10.5 feet at 100 yards (9x)
Adjustments: 1/4 MOA fingertip windage and elevation adjustments
Parallax Focus: 50-yard parallax setting
Pros
Lens cover caps included
High-quality finish
Adjustable zoom and focus
Patented TrueZero adjustment system that holds well
Fast-focus eyepiece
Mounting rings included
Enough eye relief to easily acquire targets
User-friendly adjustments
Cons
Not ideal for distances beyond 200 yards
The clicks during adjustments are very quiet
Although the mounting rings are included, the machining job is not top-notch quality
Limited field of view
7. Nikon ProStaff Rimfire 3-9x40mm Riflescope (BDC 150)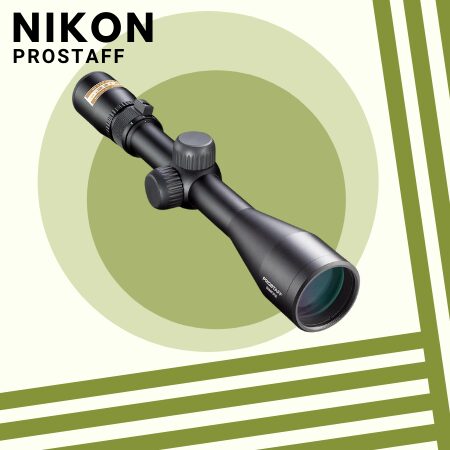 The Nikon Rimfire is known for its accuracy, and it gets top ratings for being fun to shoot. The high-quality optics translate well for long-range shooting distances. The BDC 150 reticle lets shooters compensate for long-distance bullet drops, but the crosshair style is also suitable for close-range shots, too.
Where this scope performs best is when you consider the glass itself. There's a fully multicoated optical system that has advanced anti-reflective compounds. So, whether you're shooting at dawn, dusk or midday, you'll have a clear view.
Available as an add-on with all BDC Nikon scopes is their proprietary software system called, "Spot-On Optimized" that helps you identify where to hold the BDC reticle for each type of bullet or load that you're shooting. You'll need to download an app for it to work.
Bottom line: Everyone seems to love this offering from Nikon. Top commenters mention that it works flawlessly, and they love how it looks and feels. It's also one of the best we looked at for low light conditions. At this price, you can't go wrong!
Specs:
Magnification: Variable zoom 3-9X
Objective lens: 40mm
Length: 12.3 inches
Weight: 13.1 ounces
Eye relief: 3.6 to 3.9 inches
Field of view: 33.8 feet at 100 yards (3x) | 11.3 feet at 100 yards (9x)
Adjustments: 1/4 MOA fingertip windage and elevation adjustments
Reticle: BDC (bullet drop compensation)
Parallax Focus: 50-yard fixed parallax setting
Pros
High-quality matte finish that looks more expensive than it is
Adjustable zoom and focus
Superior light gathering
Zero-reset turrets
Includes Spot-On Optimized software
Generous eye relief
Perfectly threaded turret covers
Fully multicoated lenses
Waterproof, fog proof, and shockproof
Lifetime warranty
Cons
It only has 1/2 inch click at 50 yards and 1/2 inch at 100 yards, but that's not terrible for a rimfire scope.
Limited to a 50-yard fixed focus with no adjustable objective lens, but again that's not a huge deal for rimfire scopes.
Eyepiece and zoom ring are not as high-quality as other Nikon models.
Selecting the Right Scope for Your .22lr Rifle
The key to getting the best scope for your needs is to know what you're looking for, and we'll help you determine that, which will allow you to narrow down the field.
The first thing to answer is what your shooting style is. Are you a small game hunter, a big game hunter, a target shooter or a plinker? Then honestly assess your shooting capabilities as some scopes on our list are ideal for novices while others will be best appreciated by intermediate or advanced shooters.
As you go through our list of top picks, we'll be discussing a variety of specifications. Here's a list of features and specs you may want to consider as you shop:
Magnification
Also referred to as power, the numbers you see in the model number indicate the level of magnification of the lens. For example, a 3-9X means that the magnification can be set to three to nine times normal size.
In general, the higher the magnification number, the more expensive the piece, though not all brands perform well at high numbers. For this article, we reviewed variable power scopes, which allow you to set a range of power so that you can turn it down for close shots and turn it up for longer shot distances.
Objective Lens
This is the lens at the end of the scope that allows light to pass through. The larger the number in mm, the bigger the lens and the more light that passes through. Usually, the higher the power of the scope, the larger the lens, though there are exceptions.
Adjustment Dials: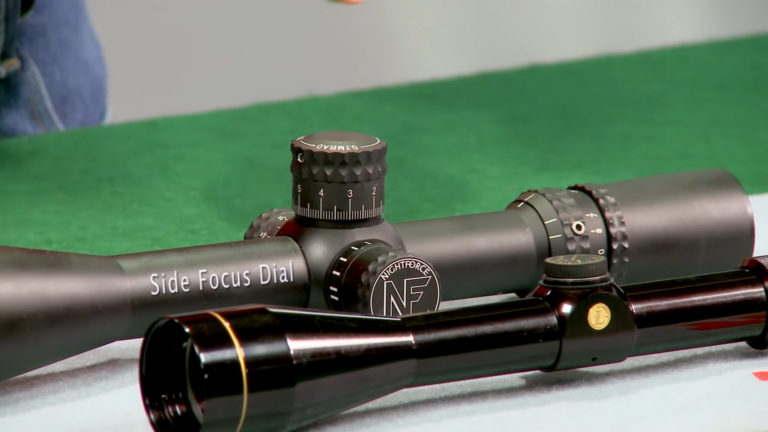 Also referred to as turrets, these allow you to make adjustments for whether you want your bullet's impact to land left or right (windage) or up or down (elevation). Each company has different ways of displaying this information, and some controls are more user-friendly than others.
Reticle
Also known as crosshairs, there are several types available, ranging from simple lines to complex dashboards displaying a lot of information. Some have dots that display that bullet drop compensations while others have a single red dot in the middle. And still, others can be illuminated.
Weight
Most people agree that the lighter the weight of your equipment, the better. As you're lagging gear around or taking aim, being weighed down can affect your comfort, enjoyment, and performance. In recent years, advancements in the industry have been made that have allowed scopes to be lighter than ever.
Eye Relief
This measurement is the distance from your eye to the ocular lens once you've properly positioned your eye. You need an ample distance here to prevent the scope from hitting you in the eyebrow or forehead when you aim your gun.
Parallax Error Compensation
As magnification increases, scopes are subject to something called parallax error, which can throw off your accuracy. In the everyday world, we experience this when we sit in the passenger seat of a car, and we view the speedometer. The speed we see will be different (and not accurate) than what the driver sees.
Correcting for parallax gives you the "driver's seat" view, which is accurate. Without compensation for parallax error at high magnifications, your shots would also be off. However, lower magnifications are usually not subject to this type of error.
Clarity
Most scopes today provide an adequate level of clarity in the glass, but some manufacturers do a much better job here than others. We'll discuss this feature in each of our product reviews below.
Field of View
The width of the viewing area in feet when you look through the scope from 100 yards. As your magnification increases, your field of view will naturally decrease, but a quality scope will give you a good starting point, and the larger the field of view, the better.
Durability and craftsmanship
All of the scopes on our list earn top marks for providing excellent warranties and replacements. However, this won't do you much good if you're in the middle of expedition hundreds of miles from civilization. That's why we also believe purchasing a scope that's durable and expertly crafted is key.
This includes not only durability, but also having glass that's coated properly to avoid view obstruction from water or fog.
The scopes we've reviewed in this guide are all moderately priced, and some are truly budget-friendly. We've found that although you tend to get what you pay for, we also agree that less can be more. Why pay more for expensive features that you don't need and won't use?
That being said, you should never have to sacrifice quality or the features you need. This is especially true if you're paying for flights to go on expeditions or you're up before dawn to begin a weekend excursion. The last thing you want is a scope that's garbage, breaks or doesn't perform as expected.
We've found that the mid-priced scopes we reviewed provide a high value-to-price ratio. They're reliable, perform exceptionally well, and should last for years, if not a lifetime.
Here are some other interesting models that you might like:
Sale
Burris Droptine Riflescope with Ballistic Plex .22 Reticle, 3-9x 40mm
Model 200019 has the focus set at just 50 yards, making it a great choice for . 22 LR ammo.
The 3-9x40mm is compact and lightweight, with a nine times magnification that provides enough distance for most hunting situations.
The simple, rugged reticle has holdover for precise shots at extended ranges. The low-profile turret is finger-adjustable.
A separate eyepiece and power ring allow for flip-up lens caps.
Covered by the Burris Forever
BARSKA 4x32 Plinker-22 Silver Scope w/ 3/8-Inch Rings
Precision Aiming: The 4x magnification scope features 1/4 MOA click adjustments for precision accuracy.
Quality Construction: The scope comes with fully coated optics, providing impressive viewing clarity. Tube diameter 1".
30/30 Reticle: The scope comes with 30/30 crosshair reticle for easy targeting, ideal for any type of shooting.
Parallax Free: The scope is parallax free at 50 yards, making it easy to target at closer range.
Robust Design: The scope is built with extra-rigid construction, being waterproof, fogproof, and shockproof. 3/8" dovetail rings included.
BSA 3-9X40 Sweet 22 Rifle Scope with Side Parallax Adjustment and Multi-Grain Turret, Black Matte
Calibrated for .22LR rifles;Multi-gran turrets with zero reset
1/4 MOA click value
1" diameter tube with one piece aluminum construction;
Waterproof, fog proof, and shockproof contruction
Sale
Athlon Optics , Neos , Riflescope , 3-9 x 40 Second Focal Plane (SFP) 1" Tube, BDC 22 RimFIre...
Configuration: 3-9x40 , capped , fixed focus, 1 inch, sfp, BDC 22 rimfire
The illuminated reticle provides greater visibility during dusk and dawn and other low ambient light environment
Aircraft grade aluminum provide extra strength and durability to handle the toughest Terrain and offers Lifetime of Use
Nitrogen purging dramatically reduces the moisture inside the tube and helps maintaining Fogproof and waterproof
Fog proof to allow you to immediately engage your target when you take your rifle to cold ambient temperature from warm inside
Sale
CVLIFE 3-9x40 Optics R4 Reticle Crosshair Scope with 20mm Free Mounts
Specification: 3-9x40
Magnification: 3-9x
Objective Diameter: 1.57
Exit pupil: 0.2
Length: 12.20